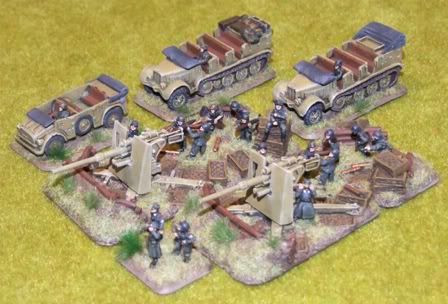 Hi guys. Blackwolf back again with some pics of my finished FlaK 36 Battery.
I've been wanting to add these bad boys to my German forces for a while now and finally got around to it. It just seems no German force is complete without them! ;)
I've put more effort into this platoon than previous ones as I really want to improve my painting. In the past, infantry received a basic base coat plus wash, and maybe a quick drybrush. This time around I went back and did highlighting too, mainly on the uniforms and skin. The vehicles received a little extra treatment as well, with chip marks and scratches being tested out (just a few). I like the way the chips and scratches turned out, so will continue with the same method for future vehicles.
Anyway, on to the pics... as always, comments and criticism welcome! :)