Alrighty then! Griddon here and I'm pretty excited to give you a review of 'The Plastic Soldier Company' 15mm Panzer IVs.
I hadn't heard much about this company until a few weeks ago when I listened the guys on the WWPD podcast talk about the T34s the company makes. They gave the kit a pretty positive review. (I can't remember the episode number but maybe one of the guys will chime in below and help us out!) When I went looking I found out that they also made PzIVs. My German project needs at least ten PzIVs so I figured I'd give them a go. Straight off the bat, they are a solid value proposition. Delivered to my door by the fantastic Irresistible Force here in Australia for $30 AUD per box.
Each box comes with five injection moulded plastic sprues with one Panzer IV per sprue. The Plastic Soldier Company have been very smart about how they went about making this kit and the box is capable of making four variants of this popular tank.. The PzIV Ausf F1, PzIV Ausf F2, PzIV Ausf G and the PzIV Ausf H. I'll be making the PzIV H for my late war force but that leaves me with five kits and I hope to use them for an upcoming mid war army.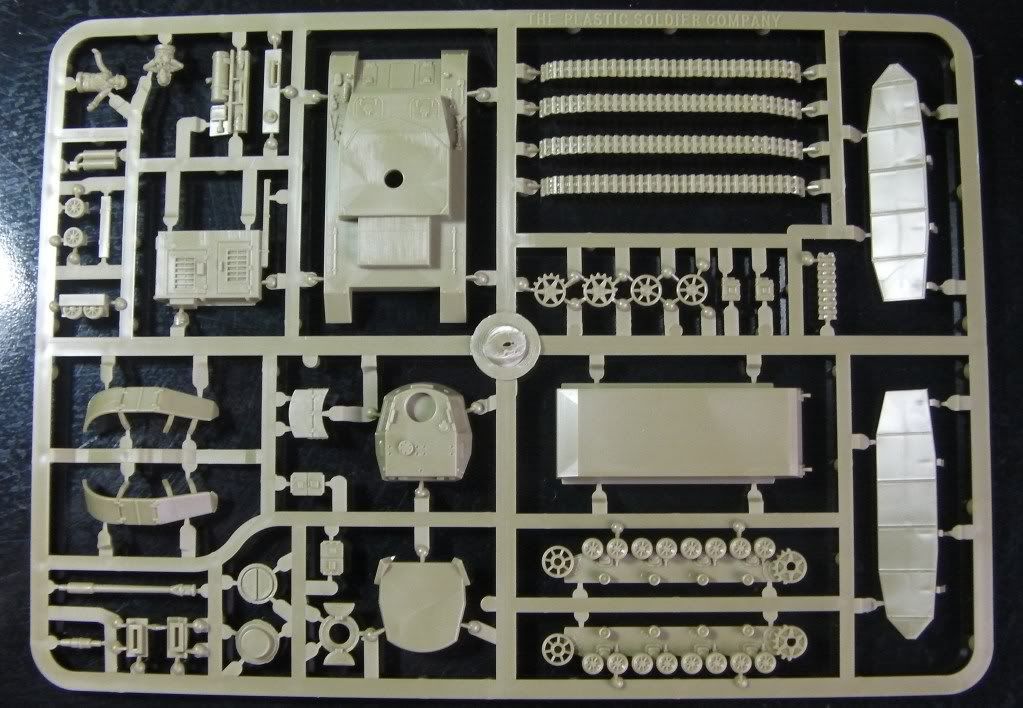 The sprue
I have a critical eye for plastic kits not just because I've build plenty but I have ten years experience in Automotive Materials Engineering. Seven years of those associated with hard plastic part design and manufacture. On first inspection each part on the sprue looks crisp and free from warpage. There are a couple of 'short' areas and I'll talk about those later. The PSC have used really great tool design to ensure they minimise flash and mould lines in critical areas. There are only two moulding lines I have to clean off on these kits. One is on the exhaust plate, the other is the barrel. The sprue gates to each part are very fine and cut easily and the parts can easily be filed or scraped to remove any hint of the gate. As usual, there are flow lines and 'cold shuts' on parts with multiple gates and I might come back and address these when I've painted. I plan on airbrushing these guys and I'm pretty confident the paint layers will mask these very fine lines but time will tell. Either way you aren't going to pick it from a table top distance and let's face it, Resin / Metal isn't anywhere near perfect. (Unless you're Spartan Games! :) ) The right hand turret Shurzen had some minor flash on each of my kits but this was trimmed very easily. Total time to cut and clean every part? 15 minutes.
The track components
Assembly was a dream. I mean, never did I expect that the kit would be so precisely engineered and manufactured to go so neatly together. I start with the tracks and I was really impressed when I applied the actual track parts to the wheels. The fit really snugly and there is no real issue with gaps at the front or rear. Occasionally the ejector pin marks on the inside of the tracks would hold them off fitting snuggly to the road wheels or return rollers but the scalpel removed those just fine.The main body goes together really well and with the tracks applied to both sides I move onto the turret. The turret is again very easy and straight forward. There are eight parts to the main turret and two optional parts in the form of Shurzen. The turret is probably the most time consuming portion of the assembly. With the turret and main body assembled I needed to add the stowage and the Shurzen. I was particularly impressed with the Shurzen and how well it matches the contours of the tank. No bother at all putting these parts on.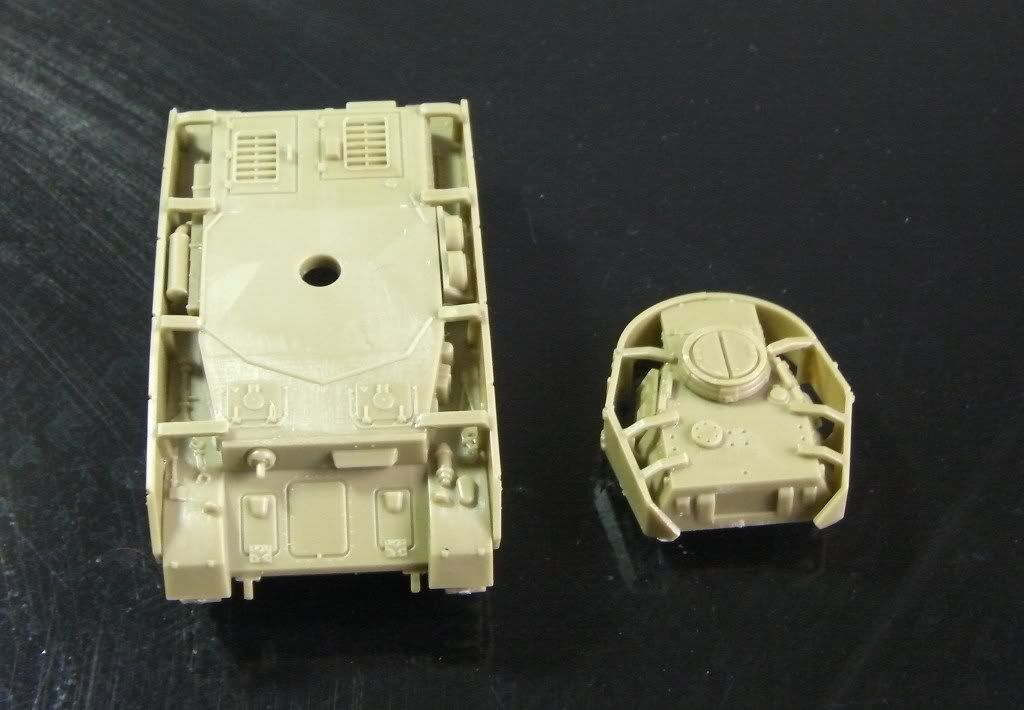 Shurzen fits nicely
Now, a bit more about the 'Short' parts. Short is a term used to describe when the mould isn't entirely filled and some elements of your part aren't matching the intended design. Unfortunately the part which attaches the barrel to the turret is suffering this problem. Both tank commanders supplied on the sprue also suffer this problem. Green stuff to the rescue in both cases and 'she'll be right'. I'll be building all my tanks before performing this step but a simple fill and file with green stuff should fix them up just fine. I suspect PSC are aware of these issues but I'll email them some feedback anyway.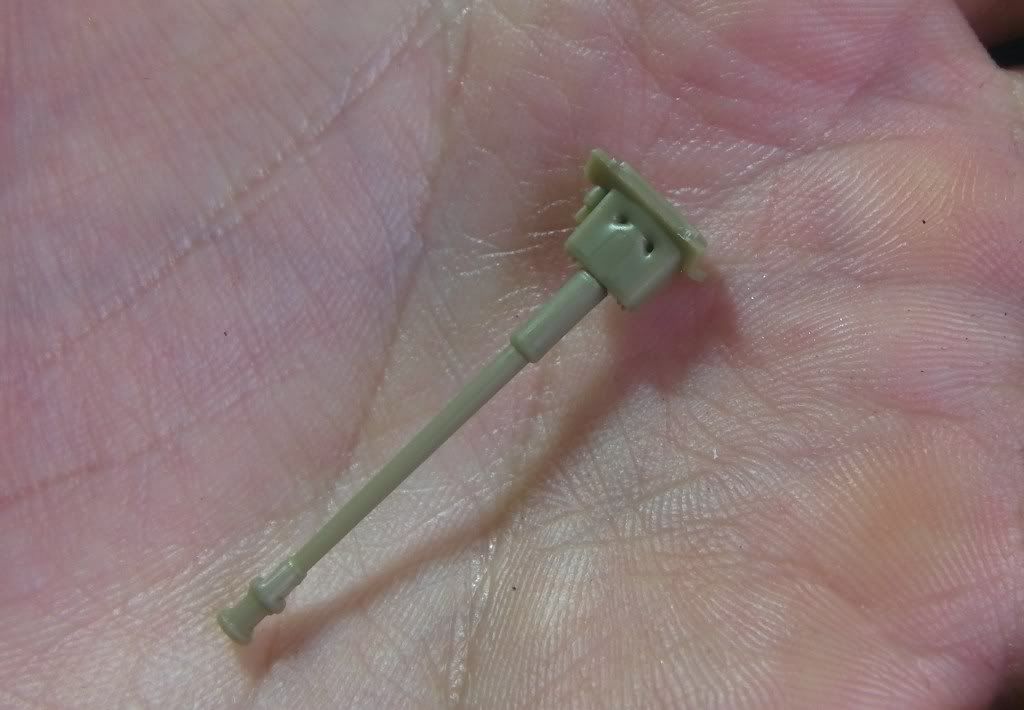 Those dimples shouldn't be there. Easy to fix though.
So, the first tank took me about 40 minutes to make. Subsequently I'm putting each tank together in about 20 to 25 minutes. As you'll see from the photos. The sprue is coloured close to Middlestone / Ochre but this is of no benefit to me as I'll be painting mine. I suppose, if you're a sloppy painter and miss spots with your basecoat you'll appreciate that. The turret fits snuggly into the hole in the main body and rotates with a bit of effort. I suspect that after painting I'll need to file the hole in the main body to give me a bit more free movement. It's also worth touching on the weight of each model. Some people are precious about how the model feels when they pick it up. I might be one of those people. I haven't yet decided. If you do prefer a weighty model, you're going to want to make sure you have some lead weights in the house ready for when your tanks arrive. Fix them inside the main body and you'll probably get close to the feel of a resin tank. Otherwise the model does feel very light. I think the weight could be an advantage for tabletop hardiness and to be honest it's probably something I'll get used to.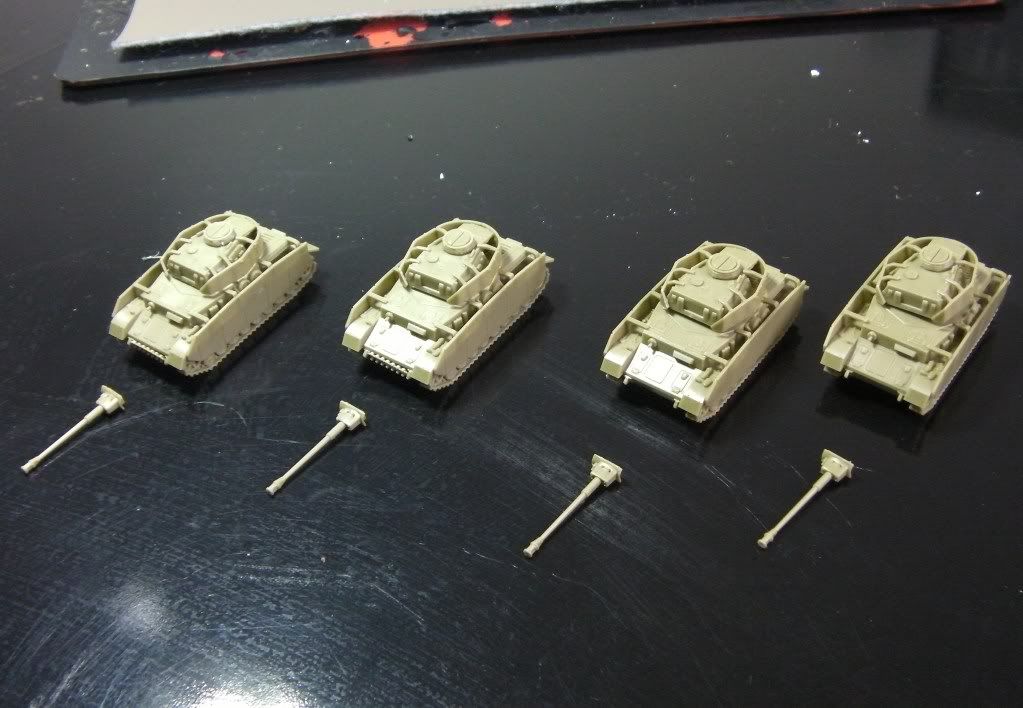 The first four. Barrels have been left off until I fix the short areas.
I don't want to get into Battlefront versus PSC too much as I haven't personally assembled any BF PzIVs. The advantage you have with the Battlefront models is that each one in the box set is individually sculpted giving you a bit less uniformity to your squad. Battlefront's use of resin helps them in this regard as the tooling is a lot cheaper for resin. It wont take a lot of creativity to make the PSC models a bit more individual and I'm going to use some camo netting for the task I think. Also the PSC models do not have Zimmerit. This is probably ok for all periods and variants of the PzIV given the irregularity of it's application in the Late War. (Or so I'm told ;) )
All in all I rate this kit a 9/10. The short moulding issues really don't detract from what is a really well engineered kit. It's a joy to put together and I'm really looking forward to painting them and seeing them on the table top. I can highly recommend them and I really hope the PSC brings us some more popular tanks and half tracks soon.
That's all for now. I'll finish up with some close ups of each area of the sprue. Have a good day!
HOLD THE PRESS! Check the PSC website for their latest release info. Shermans and Halftracks in June / July. Awesome sauce!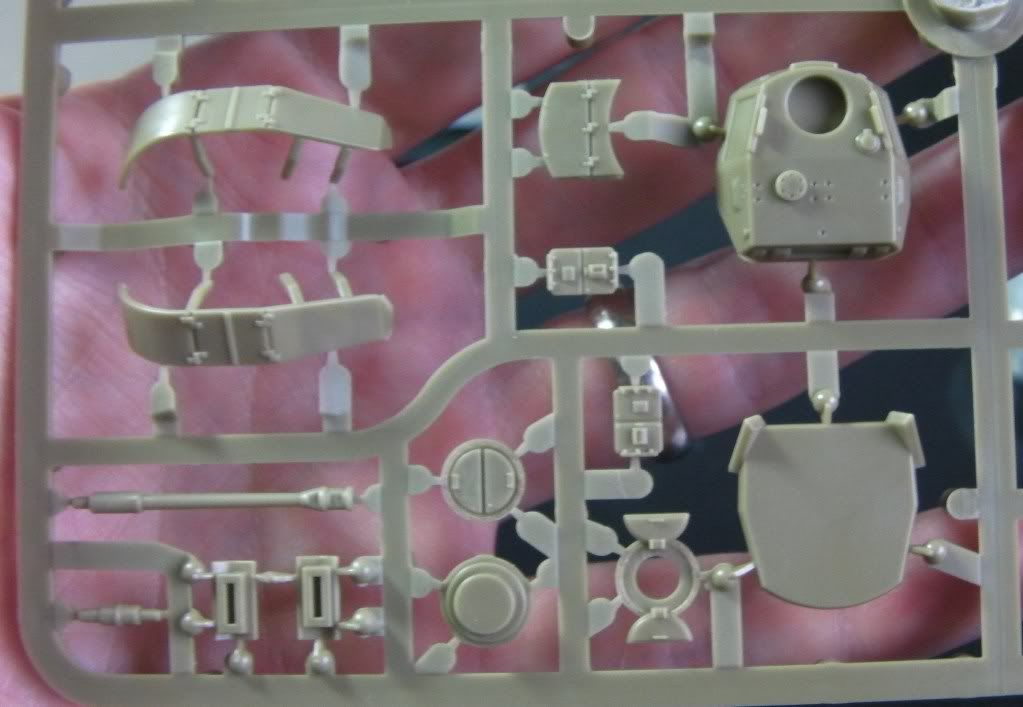 Turret bits
Main body bits and accessories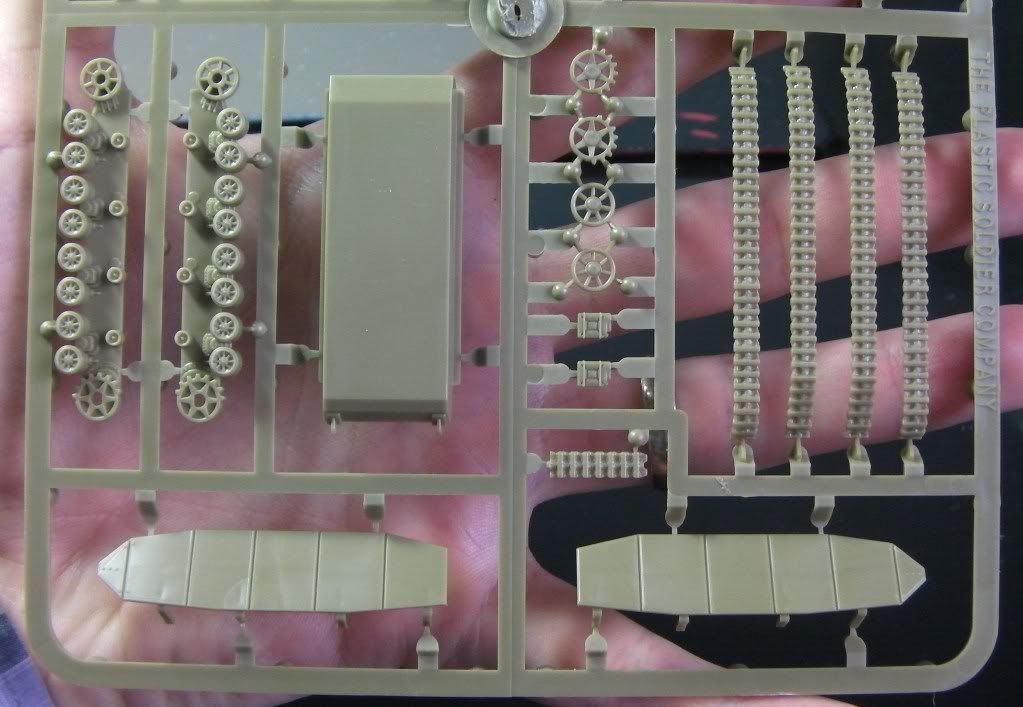 Tracks, main body Shurzen etc.